IFMA is also pleased to announce changes with the executive committee marked by the beginning of the term as chair for James P. Whittaker, P.E., CFM, CEFP, FRICS with Michael D. Feldman, FMP, CM as first vice chair and 2013-14 board member Maureen Ehrenberg, FRICS, CRE as second vice chair. Jon Seller is past chair. Executive committee members are elected to one-year terms by the IFMA membership.  Read more at IFMA.org
IFMA CHAIR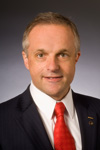 James P. Whittaker, P.E., CFM, CEFP, FRICS
President/CEO
Facility Engineering Associates, P.C.

James P. Whittaker, P.E., CFM, CEFP, FRICS, is president and CEO of Facility Engineering Associates and has more than 26 years of experience in the facilities and built environment industry. Whittaker earned his Bachelor of Science and his Master of Science degrees in civil engineering and CFM from IFMA. He has managed hundreds of facility-related projects for government, institutional, health care and corporate clients in the United Kingdom, Central and South America, and throughout the United States. Whittaker's areas of expertise include evaluation and optimization of FM organizations, facilities asset management, operations and maintenance process optimization, service level agreements, facility performance measurement, and facility management technologies. Throughout his consulting career he has been passionate about the improvement of the effectiveness of facility management organizations.

Whittaker serves on the board of directors for the National Research Council of the National Academies of Sciences Board on Infrastructure and the Constructed Environment (BICE). He is also currently chair of the ANSI US/TAG for ISO TC/267 FM Standards. He also sits on the industry advisory board of Brigham Young University's Facility and Property Management degree program. Whittaker is a fellow of the Royal Institute of Chartered Surveyors and instructor in the facility management program at George Mason University. He recently completed his term as secretary/treasurer of the APPA Educational Facilities Professionals board of directors. Whittaker routinely presents at facility management and engineering conferences across the United States, Europe and Middle East.

Recent IFMA activities/committees include: chair of IFMA's finance committee, member of the IFMA audit committee, chair of the IFMA standards committee, and co-chair of the IFMA international government relations committee. He was a member of the IFMA Foundation board of trustees, and in 2011 he was appointed as the IFMA representative on the U.S. Department of State Overseas Buildings Office Industry Advisory Panel. In this capacity he advises OBO senior leadership on best practices in facility management and high-performance buildings. 
Whittaker is a certified IFMA instructor and has taught over 100 IFMA and GMU competency courses over the past decade. He has been a subject matter expert in the development of a number of IFMA educational courses including: the Facility Management Professional learning system, Sustainability Facility Professional® courses, FM core competency courses, the Certified Facility Manager® exam review course, the Business of FM course and the new Facility Management: A Practical Introduction course.